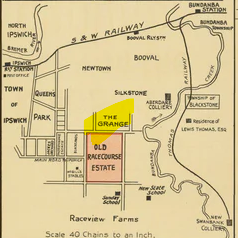 Behind the name
New
Date: 25-Jul-2022
Did you know there is more to the name of our premium events space The Grange? In fact, The Grange, in Raceview, was the venue of the first official Queensland racing meeting in 1859.
During the seven years existence of "The Grange" some 105 races were won including all the principle events on the Queensland Turf Club calendar.
A prominent member of the Ipswich racing fraternity, Sir Joshua Peter Bell, went on to purchase the site and forged a successful breeding program with racing stock that had a winning reputation throughout Australia.
Mr Bell was a prominent fixture in the business community and entered parliament in 1865 and was knighted by Queen Victoria for his service. Pride of place was given to him as the owner of the Grange Stud situated at the old Ipswich racecourse which he purchased in June 1874.
It consisted of 216 acres, and he purchased the land for 1,350 pounds. Mr William Kellett made the site famous by transforming it into a stud establishment known as "The Grange" while Mr Harry Walsh was the trainer there.
Back to list